About
Posted On: November 12, 2009


Name: Robin Coltez aka Rocabye
Dance Style: B-boy, Freestyle Hip Hop/House Dancing
Crew: The HardNox Skoolerz
Occupation: Graphic/Web Designer, Street Dance Teacher
Fat Laces Postions: The Main Guy
Location: Toronto/GTA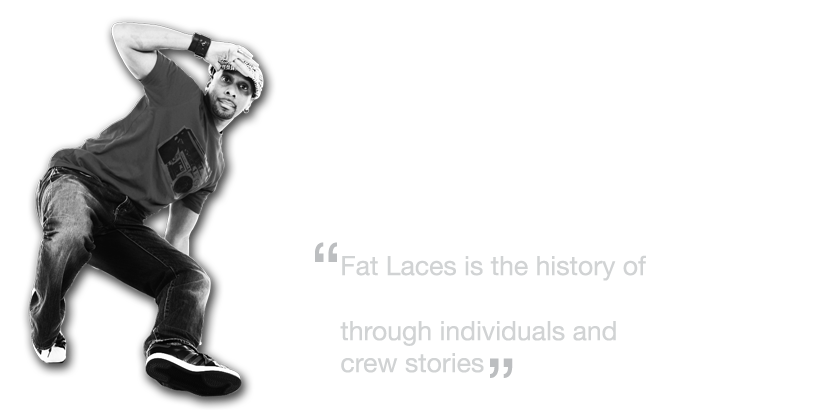 What Is Fat Laces?
…
Fat Laces is an on-line magazine with the purpose of documenting the Hip Hop Street Dance Culture from a Canadian perspective. It will cover various styles of Street Dances such as Bboying, Popping, Locking & House. This site will also show the ties between various dances and disciplines that has it's beginnings or influences from the streets such as Capoeira, Tap, and Salsa.
To help cultivate and promote Hip Hop culture and it dances in various communities throughout Canada, future plans for Fat Laces involves a yearly print magazine, sponsorship of street dance programs and event coverage along with other various projects. Stay tuned to Fat Laces and it's ties to street dance culture from a Canadian perspective.
The Concept
…
The concept of Fat Laces has been in works by me Robin Coltez since the summer of 2007 and made official in February of 2008. The name Fat Laces was chosen because it was the first symbol of Hip Hop specifically Breaking that my twin brother Collin Coltez and I were introduced to in 1983 by our childhood friend and fellow crew member, Rod Oyco (B-Boy Chi Ko). This is when my passion for Hip Hop Culture and it's Street Dances began at the age of 9. Being a Canadian and a part of this culture for the last 28 years, starting with Breaking then partnering with my brother doing routine dancing in the mid 1980's to the early 1990's including dancing for UBIS which was rated as one of Canada's top 10 Hip Hop groups in 1993.
From the early 1990's to present, Freestyle Hip Hop/ House Dancing and the reenergized Breaking scene in Canada around 1992 inspired me to form The HardNox Skoolerz Dance Company in 1997 with my brother to represent our clothing line BobbyNox. While teaching Breaking and Freestyle Hip Hop/House Dancing for 10 years starting in 2001, I was inspired to dig into the reasons of what influenced me to begin Street Dancing and to search for and document the stories of the Canadian Street Dancers past and present that has inspired me throughout the years along with legendary Street Dancers of the Hip Hop Culture.